Sheikha Lubna - UAE boosting trade and economic cooperation with Syria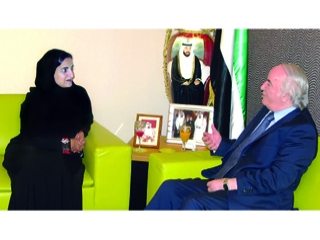 Business & Finance Club - UAE (Abu Dhabi) - UAE Trade Minister Sheikha Lubna Al Qasimi has discussed with Dr Beshir Qadoor, Charge d' Affairs of the Syrian Embassy in the UAE, ways to bolster bilateral relations, especially in the area of trade.

The two sides lauded today in a meeting held at the ministry in Abu Dhabi, distinguished relations between the UAE and Syria in all fields.

Sheikha Lubna referred to the keenness of UAE to boost trade and economic cooperation with Syria, citing a host of existing cooperation opportunities could further boost the trade and investment ties.

On his part, the Syrian official emphasised keenness of his country to expand cooperation with the UAE, describing current trade cooperation ties between the two countries as good.

Non oil mutual trade volume between the two countries stood at US$322 million, ranking Syria at number 58th in the list of UAE Foreign Trade.